'The Play That Goes Wrong' features a group of actors attempting to put on a murder mystery, but as the title suggests, everything that can go wrong pretty much does.
Sure, the cast have the best of intentions and this is why they rehearse... But things go wrong in performance and they just have to deal with them. This is a real life collection of stories from the cast, in their list of five things that can go wrong in a show.
Costume Malfunction
I have split my pants on stage in front of 200 children. It wasn't so much the actual split or hiding it from the children that was the problem, but when I showed a cast member she lost her mind, as did I. Keeping a straight face for the rest of the show was rather difficult. I spent the break in between shows sewing up my pants. #actorslyf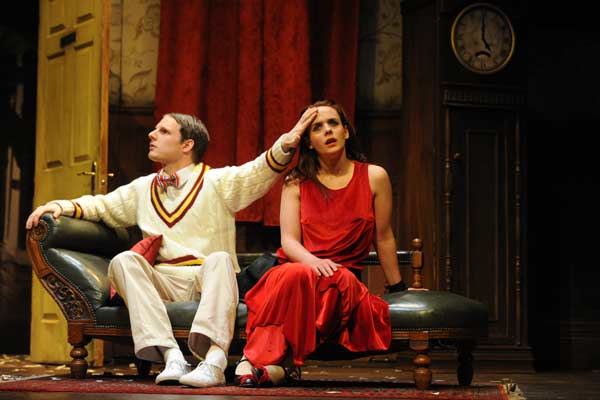 Electronic Failure
James Marlowe, playing Max, did a version of 'Macbeth' where the electronic platform broke. Now this platform was instrumental in making the ghost of Banquo disappear. So Banquo couldn't disappear, and chose to hide under a table. Atmosphere killer.
Microphones
Jordan Prosser, playing William, was in the chorus of a musical when a guy's mic pack slipped out of the belt. The following dance number comprised mostly of flips and barrel rolls and the mic pack became an airborne weapon smacking everyone else in the face while he was dancing.
Wrong Cues
Adam Dunn, playing Trevor, had the instance of wrong cues being lined up in a show. So the commentary of State of Origin faded into Mice and Men.
Missing/Changing Lines
I feel like this is a major fear for most actors. Not just forgetting a line, but completely losing everything you've ever thought of. Brooke Satchwell, playing Sandra, was in a production of 'The Tempest' where Prospero accidentally edited out the entire mid-section of the play by missing a line. This sent everyone backstage into a scramble for costume changes. The audience went home an hour early and were thrilled.
'The Play That Goes Wrong' plays Queensland Performing Arts Centre from 4-14 May and His Majesty's Theatre in Perth from 31 May-11 June.