The urban circus to challenge the meaning of circus as we know it is touring Australia in the first half of 2019.
'360 ALLSTARS' by Onyx Productions revolutionises how circus and physical theatre is perceived by flipping all of its stereotypes upside down. Expect to see BMX bikes, basketball, cyr wheel, live music performance and more.
Director and Percussionist Gene Peterson goes into detail.
First of all, this will be the Perth premiere of this smash-hit show! Congratulations on landing there… What are you most excited about when it comes to bringing '360 ALLSTARS' to Western Australia?
I absolutely love touring WA, and I'm thrilled to be bringing '360 ALLSTARS' to Perth! Fringe World is growing so fast, so it's fantastic to be a part of this amazing festival and present the show to new audiences. I'm also extremely happy to be in Perth for my own pleasure. The weather is always so nice, the sun sets over the water, Rottnest Island is only a hop, skip and a jump away... It's a fun time!
It was the second highest-selling Adelaide Fringe show of 2018. Why do you think so many people turned up to watch this show?
Well there's definitely a lot to come and see! We have the 2x World Champion BMX Flatlander, two champion breakdancers, a Guinness World record holding cyr wheel artist, an 'X-Factor' winning vocalist, and a world class basketball freestyler all mixing it together on the one stage! It's a pretty enticing offering, and subsequently the show sells out everywhere we go. Another major factor is that we're just having the best time together on stage, and that's really contagious, and so inevitably the audience has a whole heap of fun with us! It's a wonderful thing to be a part of. We love what we do, and we're stoked to be able to share it with so many people.
Tell us a little about the show for those reading this who haven't seen it yet.
Sure! The production is an urban circus, connecting the street with the elite in a super high energy, very physical performance. All the art forms in the show feature rotation, hence '360', and all the artists have been head-hunted from right around the world to create an international dream-team cast, hence 'ALLSTARS'. There's a killer live soundtrack performed by award-winning musicians, and a stunning video design across multiple projection screens, and a heap of spectacular lighting and effects. When you put it all together, there's a lot to experience, both aurally and visually.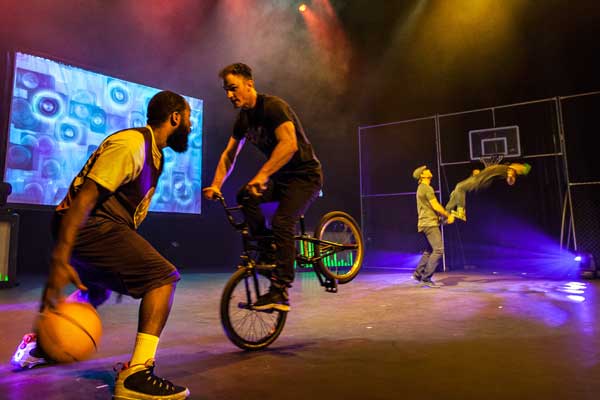 Image © Matt Loncar
As the Director/Percussionist, what are your main goals when it comes to putting the show on? What do you hope to achieve?
Well I have different goals for each of those roles. As the Director, my task is to bring all these insanely talented artists and wonderful production elements together in to a cohesive and exciting performance. Making sure that we are engaging and captivating our audiences and creating an experience that's going to draw the strongest response... Whether that's amazement, suspense, laughter or disbelief. And as a percussionist, my goal is to musically support that theatrical vision, and create the right feel to evoke each of those emotions. Whether that's driving the groove and getting the audience dancing in their seats, or building the intensity behind a performer to create more suspense, or accentuating the execution of the artists' stunts to add to the wow factor... Anything I can do to ensure the soundtrack supports and enhances what's happening on stage at all times.
It is described as 'reinventing the circus'. What does this mean?
Essentially what we're doing is replacing stereotype traditional circus art forms with contemporary street styles to create our own unique brand of urban circus! Instead of acrobats we have breakdancers, instead of a juggler we have a basketball freestyler, instead of a unicyclist we have a BMX rider, and so on! Just like a normal circus we feature each of these artists and art forms individually, but we also then bring them together and build relationships between the different disciplines and get these phenomenal artists collaborating together.
You've got a big year or two ahead for '360 ALLSTARS'! Tell us a little bit of what's in the pipeline for the company.
Yeah the show is continuing to grow from strength to strength.. That's for sure! This year will be our seventh year on the road, and is our biggest year yet. We kick of with a mammoth national tour – 100 shows in 114 days! After that we'll head straight back to Europe and then Asia, and on to North America in 2020, so it's a full world tour over the next 18 months. No rest for the wicked!
Image © Matt Loncar
There are three new cast members joining this year. Who are they and what are they bringing to the performance?
Yes, some fresh blood joining the cast! We have an amazing new vocalist and beatboxer, Beau Monga, who won 'X Factor' in NZ! Then there's Rowan Thomas, who's a Guinness World Record holding cyr wheel artist and such a great performer! And also we have Bavo, who's a world-renowned basketball freestyler all the way from Belgium! It's an exciting time for us, and I'm really looking forward to working with these amazing artists to pump new energy in to the show, and together with our existing crew take the opportunity to level up and go bigger and better again!
What is your favourite thing about '360 ALLSTARS'?
It's just such a blessing to be able to travel the world, doing what we love and sharing that with audiences of all ages, across such varying countries and cultures. Especially because the show is predominantly non-verbal, we can take it anywhere. We've toured China, we've toured Alaska, we've gone to remote communities in outback Australia, and we've done Broadway, New York! And of course, I love that I have creative control over the project. I'm definitely very grateful to be in a position where I get to choose where I travel, what music I want to play, and which incredible artists I get to collaborate with. It's a dream gig.
In an ideal world, audiences leaving your show are thinking...
"...That was the most fun show we've ever seen, and we're definitely coming back to see it again!"
360 ALLSTARS Tour Dates
10-11 Jan - Bunjil Place Theatre16-19 Jan - Home Of The Arts (Gold Coast)23 Jan-10 Feb - Woodside Pleasure Garden - Fringe World (Perth)15 Feb-17 Mar - The Moa at Gluttony (Adelaide Fringe Festival)Sat 23 Mar - Darwin Entertainment Centre25-26 Mar - Cardinia Cultural CentreFri 29 Mar - The Cube (Wodonga)Sat 30 Mar - Wagga Wagga Civic Centre2-3 Apr - Shoalhaven Entertainment CentreFri 5 Apr - Griffith Regional Theatre8-9 Apr - Dubbo Regional Theatre & Convention CentreWed 10 Apr - Orange Civic Centre13-28 Apr - Sydney Opera HouseWed 1 May - Manning Entertainment Centre (Taree)2-3 May - Sportz Central (Coffs harbour)