The '100% Kylie' live show is on the road.
The show is an international Kylie Minogue impersonation show performed by Lucy Holmes. It has caught the attention and has been endorsed by Kylie Minogue as the 'Best Kylie Act'.
'100% Kylie' has been performed over 800 times, all across the world for over 15 years. Comprising over 30 years of Kylie's hits, extravagant costumes and an energetic environment, the performance has a little something for everyone. Lucy captivates the audience through her uncanny Kylie impersonation and portrayal of the Australian singer.
"Many years ago I studied music theatre, so I was very used to performing with characters in different roles and different shows.
"Often, from the age of 16, I was told I looked like Kylie, so it was always a bit of a gag over the years. I was able to mimic her voice, which always got a few laughs. After I finished my degree in music theatre, instead of going into a stage show, I ended up going into the Kylie show which I have done for 17 years," Lucy says.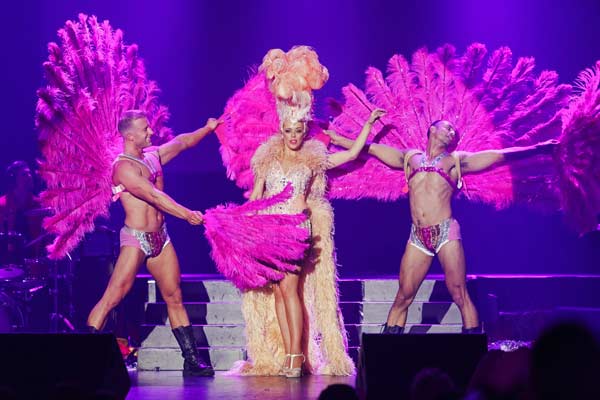 "I just absolutely love how [Kylie] is just timeless. She's the ultimate showgirl. People just adore everything about her. She puts on an amazing show and she's so loveable."
Lucy explains the show originally began 17 years ago, as a small, humble performance.
"It really started when a big agent who'd seen me perform said: 'I represent a lot of the big tribute shows around the world and you should be doing a Kylie show'.
"It became this full two hour spectacular with a stage full of amazing dancers and replica costumes. It took on a life of its own and became this huge theatre show that has taken us around the world."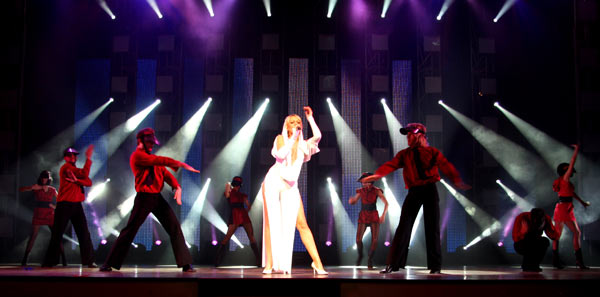 "If you love anything about Kylie or even the spectacle of a show, ['100% Kylie'] is a show for everybody. We have hardcore fans and people who just like a great night out come," Lucy says. "You'll know all the music because she has 30 years' worth of number one hits!"
"The costumes are just breathtaking. There are huge Las Vegas style feather costumes that are just absolutely amazing. [They] have to be seen to be believed. It's incredible high energy. The dancers are some of Australia's best. The band's amazing. Incredible projections run alongside the shows. It's like two hours of power that just hits you in the face."
Fans of Kylie particularly appreciate the nostalgia the show delivers, while others enjoy the spectacle itself.
"It's a show that, whether you're a little kid, a nana, is just something for everyone. You can never wipe the smile off people's faces after the show.
"There's a lot of humour in the show as well. I inject a lot of humour into it because you can't take yourself too seriously. I love to try and portray Kylie as close as I can to the real thing. I also love to have a lot of fun with the audience. It's very interactive as well."
"If people want a great night where they are feeling uplifted, then it's definitely a show for them."
100% Kylie Tour Dates
8 June – Star Casino (Gold Coast)6 July – Wollongong Town Hall7 July – Juniors Kingsford (Sydney)